Restart drukarek Worldspan
1. Znajdź komputer, na którym działa aplikacja Host Print Manager. Jest ona widoczna w prawym dolnym rogu ekranu (na pasku koło zegara) jako ikona przypominająca drukarkę. Kliknij na nią prawym klawiszem myszy i wybierz Status, żeby zweryfikować, czy jest to rzeczywiście aplikacja odpowiedzialna za transfer danych do eKNF (w biurze może się znajdować kilka takich aplikacji, obsługujących inne rodzaje wydruków). Jeśli w kolumnie Type znajduje się opis 'Interface – Disk Intl.' zo znaczy, że jesteś na właściwym komputerze i znalazłeś właściwą instancję HPM.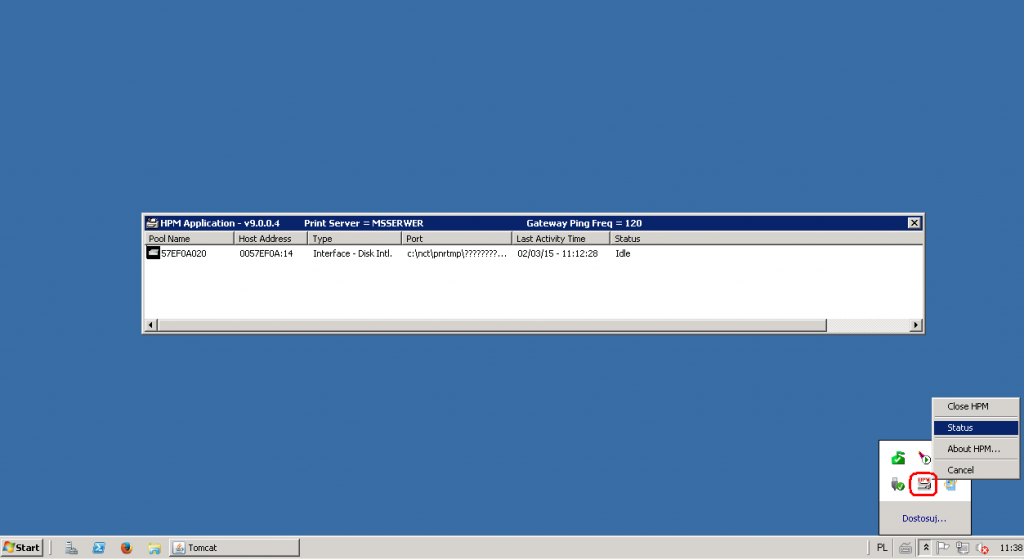 2. Kliknij ponownie prawym klawiszem myszy na ikonę Host Print Mangera, i wybierz 'Close'. Aplikacja poprosi o potwierdzenie zamknięcia. Odpowiedz 'Tak':

3. Uruchom ponownie aplikację klikając na Start -> Uruchom. Wpisz w oknie uruchamiania nowego programu hpm i naciśnij Enter lub OK.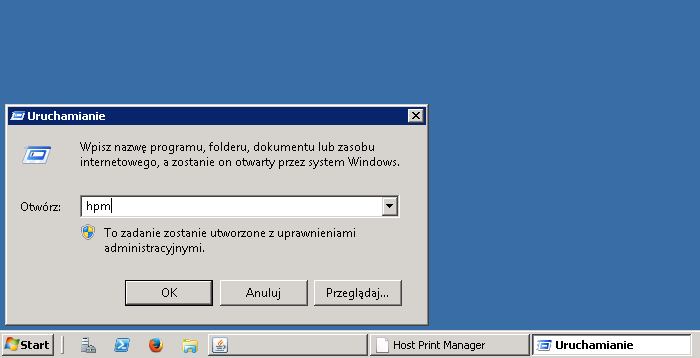 W wyniku tej operacji ikona HPM powinna ponownie pojawić się w prawym dolnym rogu ekranu – na pasku ikon obok zegara.
Jeśli operacja powiodła się, bilety powinny zostać przesłane do eKNF w ciągu 20-30 sekund. Jeśli nadal nie są widoczne, spróbuj zrestartować kolejkę wydruku w systemie Worldspan:
Restart kolejki wydruku w systemie Worldspan:
1. Odczytaj adres drukarki w oknie Status Host Print Manager (Kliknij prawym klawiszem myszy na ikonę aplikacji, i wybierz Status). Adres drukarki to pierwszych 6 znaków w kolumnie Pool Name. Na poniższym przykładzie jest to 57EF0A: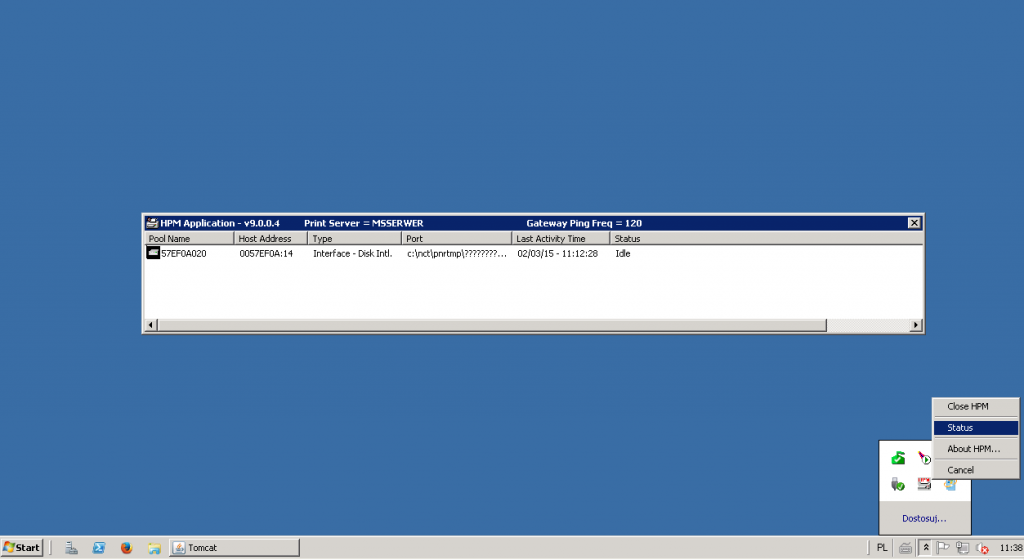 2. W systemie Worldspan wykonaj kolejno polecenia:
>YSTPadres_drukarki
a następnie:
>YSTRadres_drukarki
Przykład: dla drukarki o adresie 57EF0A należy wydać polecenia (uwaga: bez odstępu przed adresem drukarki!)
>YSTP57EF0A
>YSTR57EF0A
Jeśli system na oba polecenia odpowie OK, to znaczy, że operacja przebiegła pomyślnie. Jeśli natomiast odpowie RESTRICTED to znaczy, że musisz spróbować na innym terminalu (w każdym biurze tylko maksymalnie cztery terminale mają prawo do restartu drukarki) Jeśli nie możesz znaleźć terminala, na którym uda się wykonać polecenia YSTP i YSTR, skontaktuj się z pomocą techniczną Travelportu, i poproś o pomoc w restarcie drukarki.
 Jeśli operacja przebiegła poprawnie, brakujące bilety powinny pojawić się w eKNF po około 20 sekundach. Jeśli się nie pojawią – skontaktuj się z naszą pomocą techniczną.
Ponowna transmisja danych z systemu Worldspan (polecenia DD, a następnie DDRD) – skrócony manual przedstawiamy poniżej:
Zobacz pełny manual na stronie Worldspan