Pola dodatkowe konfigurowane są dla produktów.
Aby zmienić ustawienia, przejdź do zakładki Produkty -> Lista produktów
Wyszukaj produkt, którego ustawienia pól dodatkowych chcesz zmienić, i i kliknij na niego prawym klawiszem myszy, a następnie wybierz 'Pola dodatkowe'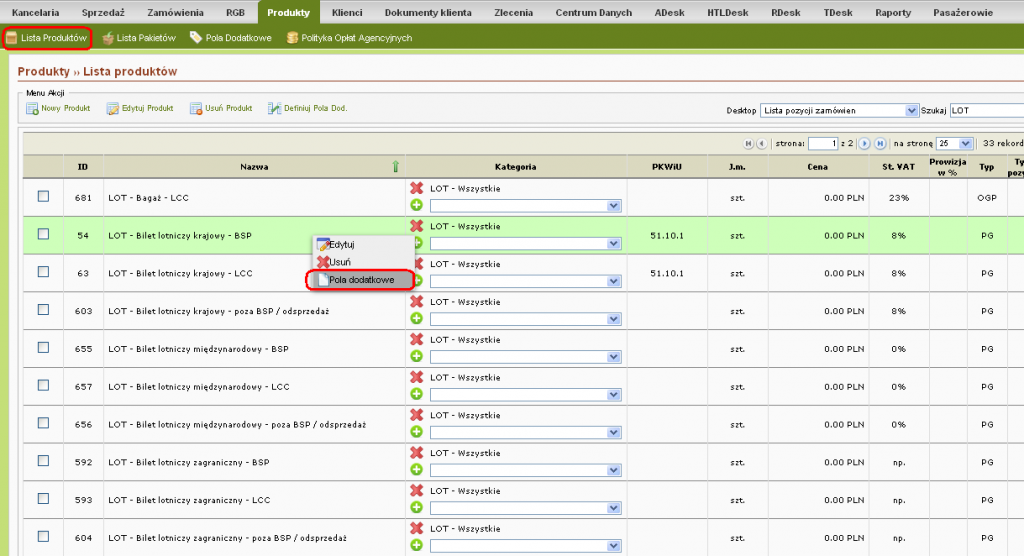 Początkowo zostaną wyświetlone pola dodatkowe tylko dla jednego wybranego produktu. Możesz jednak edytować jednocześnie ustawienia pól dla wielu produktów z tej samej kategorii. Żeby to uczynić, wpisz w pole z  nazwą produktu fragment nazwy w taki sposób, żeby pasował do wszystkich produktów, których konfigurację chcesz sprawdzić lub zmienić.
Na poniższym przykładzie wyświetlono konfigurację pól dodatkowych dla wszystkich typów biletów lotniczych, wpisując fragment nazwy pasujący do wszystkich (czyli: LOT – Bilet lotniczy):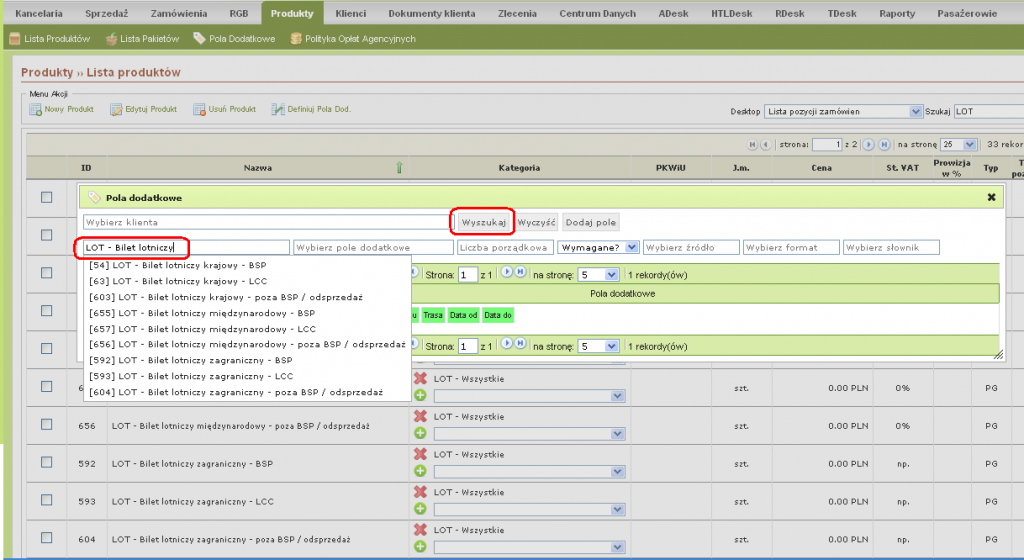 Aby dodać do jednego lub kilku produktów nowe pole dodatkowe, wyszukaj je wpisując w okienku edytora część jego nazwy (na przykładzie wyszukano pole Numer rezerwacji)
Możesz dodać wyszukane pole dodatkowe do więcej niż jednego produktu. Aby to zrobić, zaznacz na liście produkty, dla których chcesz dodać nowe pole, i kliknij na [Dodaj pole]. Na przykładzie pole Numer rezerwacji zostanie dodane do wszystkich produktów typu bilet lotniczy lowcost: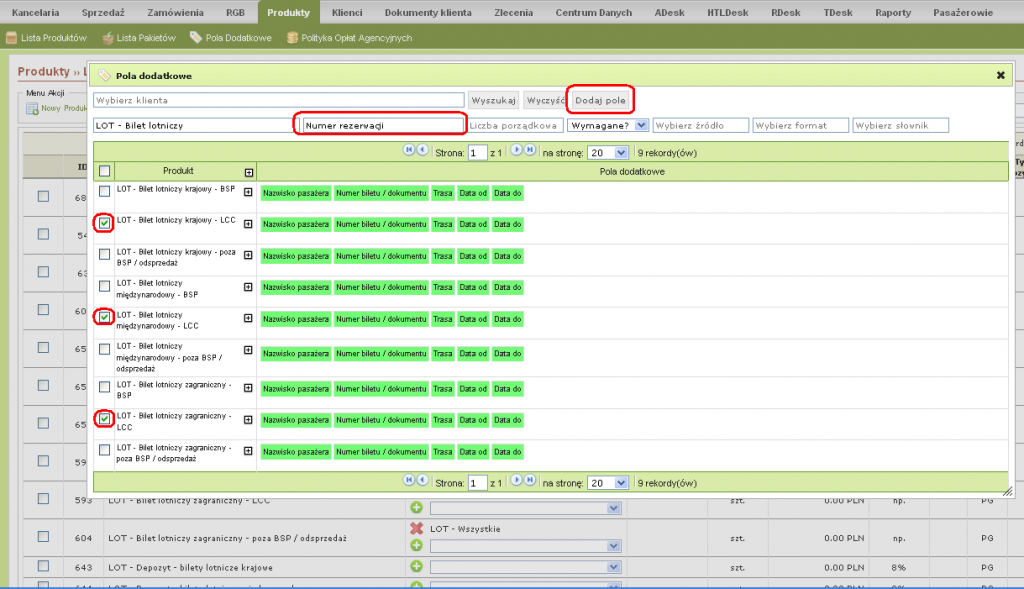 Dodając nowe pole, możesz jednocześnie określić jego własności (numer kolejny, źródło, wymagane/nie wymagane, słownik, format). Na przykładzie dla pola Numer rezerwacji, które ma zostać dodane do biletów lotniczych low-cost ustalane jest od razu źródło (rgb_reservation_number):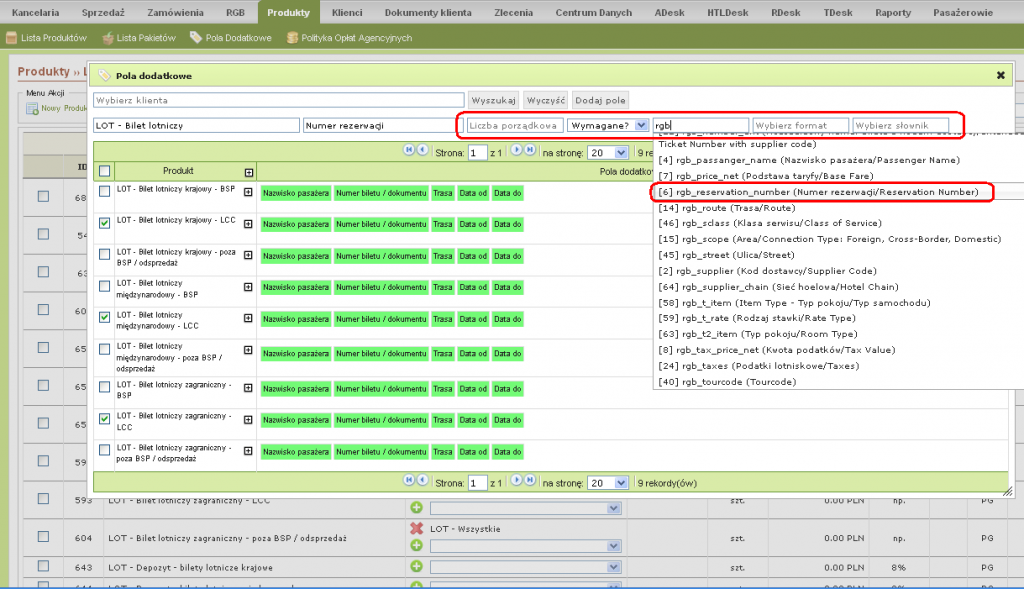 Na przypisanych już do produktów polach dodatkowych możesz też wykonywać inne operacje, takie jak: usunięcie bądź skopiowanie pola. Menu dostępnych opcji znajduje się pod prawym klawiszem myszy, po kliknięciu na wybrane pole.Wybrana operacja będzie wtedy wykonana na wszystkich zaznaczonych produktach.
Na poniższym przykładzie pole Numer biletu / dokumentu zostanie usunięte ze wszystkich typów biletów lotniczych low-cost: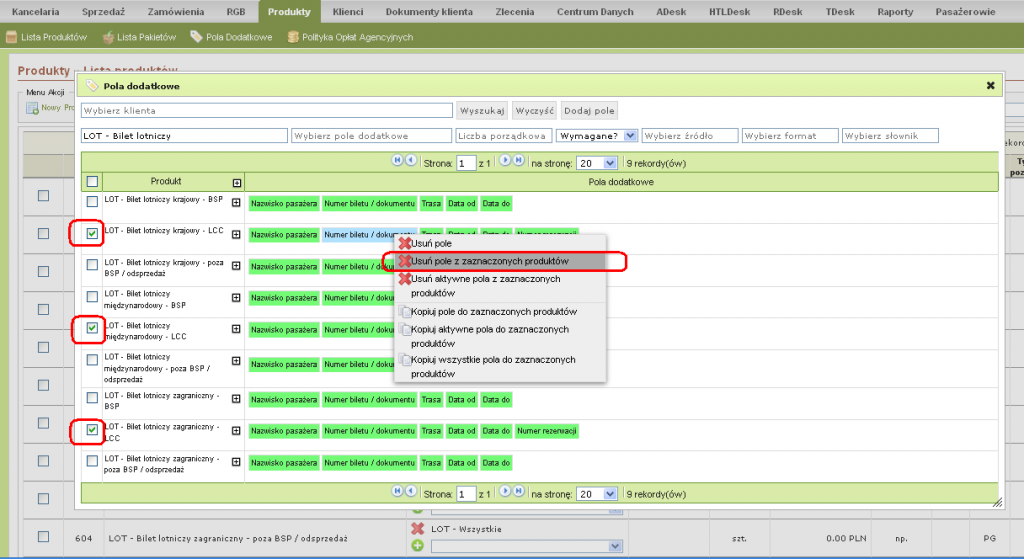 Szczegółowe właściwości wszystkich pól dodatkowych dla wskazanego produktu możesz wyświetlić, klikając na znak plus, znajdujący się na początku listy pól dla danego produktu: