eKNF – innovative and multi-purpose, internet mid-office system, capable of processing all types of travel services, equipped with tools dedicated for business travel customers, and individual travellers, and understanding the specificity of both.

Project co-financed by The European Union from the European Fund of Regional Growth

Automatic data interfaces to numerous booking systems:

Equipped with interfaces to all existing GDS systems and capable of processing bookings from all the major low cost airlines
Hotel module integrated with GoGlobal, Horse21Pro, Resfinity, Conso, Tripnet, Booking.com
Rail module with automatic interface to PKP IC and capable of importing railway tickets from several other carriers
Tour module with automatic interface to MerlinX and Wezyr

Automatic invoicing, reporting, and data exports:

Automatic invoicing of Air tickets, cars, transfers, and insurances
E-mail delivery of invoices and payment reminders
Electronic office: storage of cost invoices related to individual transactions. Electronic acceptance process for cost invoices.
Automated data export to all leading payment and information systems: Lufthansa Air Plus, iBANK, AMEX BTA, DINERS, GEMS, PRISM, GRO, MasterCard, VISA
Automated export to leading accounting systems: Symfonia, Perseus, Microsoft Navision, Fakir, Optima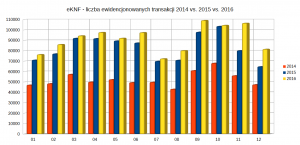 The number of transactions (air and rail tickets, hotels, cars, insurances, etc) processed by eKNF monthly, exceeds 100 000. That gives us the leading position on our market. We are also the fastest growing mid-office system. The number of transactions we process grew 75% in the last two years.